Programing series offered through Mines@Catalyst where the Mines community engages in an open and deep converstation with health tech companies about what they are doing NOW to help the world. 
Mines@Catalyst Events & Opportunities
Want to be involved with what Colorado School of Mines is doing with innovation at the Catalyst?  Below is a list of workshops, talks, challenges, conferences, and more hosted both by Mines as well as by our partners and organizations around the world.  If you have an event you would like added to the calendar or held in our Catalyst location please Contact Us.
Health innovation now
:
Conversation with 
Thursday, December 3, 2020 | 12:30 – 1:45 AM 
Come meet Sana Health, a local startup with the aim of developing a non-pharmaceutical approach to fighting chronic pain and managing sleep*. The device uses audio visual stimulation to increase balance between the left and right side of the brain leading to greater relaxation. Ongoing use of a Sana mask resembles the effect of long-term meditative practices which leads to a more restful state overall. Recently considered a rising star by the Colorado Bioscience Association, Sana Health has rapidly accelerated its growth over the last year by hitting major milestones including the launch of a commercial product and the commencement of a pivotal trial investigating the device's effects on Fibromyalgia.
*Sana is not approved for any medical condition and is currently available as a wellness device.
Health innovation now
: Conversation with Dr. Matthias Heyden from Arizona State University
Wednesday, October 28, 2020 | 9:00 – 10:00 AM 

Solvent-Mediated Driving Forces in (Bio)Molecular System
Understanding direct intermolecular interactions in atomistic simulations on a qualitative or even semi-quantitative level is relatively straightforward with simplified empirical models that include just enough detail. For example, we can understand the consequences of Pauli repulsion and dispersion interactions between atoms or molecules using the Lennard-Jones potential. Likewise, we can understand electrostatic interactions and hydrogen bond formation between molecules using fitted partial charges that are assigned to individual atoms. All of the above are essential ingredients of molecular mechanics force fields used in atomistic molecular dynamics and Monte Carlo simulations.
However, even in such simplified representations of reality, one quickly realizes that in condensed systems, such as liquids and solutions, additional forces are at play, which are less trivial to describe. The latter are solvent-mediated interactions that result from the preferential solvation or desolvation of molecular interfaces and associated free energy changes. These interactions cannot be understood in terms of individual microstates (i.e. sets of coordinates), but require a thermodynamic ensemble for the solvent molecules. A popular example are hydrophobic interactions, which have been associated with protein folding and stability and many other self-assembly processes. However, also so-called hydrophilic solvent-mediated interactions are frequently observed in the form of water-mediated hydrogen bonds. Quantifying such indirect intermolecular interactions is non-trivial, but fundamentally important for our understanding of thermodynamic driving forces in chemistry and biochemistry.
We develop specialized tools that allow us to analyze solvation-induced free energy changes from atomistic molecular dynamics simulations with spatial resolution. Our methods allow us to compare the solvation of simple organic molecules with distinct substitution patterns, to quantify solvent-mediated interactions involved in protein conformational changes and complex formation, and to study the role of solvation for conformational ensembles of intrinsically disordered proteins.
Contact Judith Klein for more details judithklein@mines.edu
Health innovation now: Conversation with BioLoomics
THURSDAY, OCTOBER 15TH , 2020 AT 12:30 P.M. TO 1:45 P.M.
Join us for the conversation with Bioloomics, a Colorado Biotechnology Company specializing in the development of in vivo biosensors and drug discovery.  Contact Judith Klein for more details judithklein@mines.edu
Health innovation now: conversation with Veloce Digital- SmartTab
   Thursday, October 8th , 2020 at 12:30 p.m. to 1:45 p.m.
Join us for the conversation with Veloce Digital- SmartTab , a digital medicine company to know about their smart injectables and how they transform into ingestibles for oral biologics and the progress as a startup in the future of digital medicine.
Check out the recap video on our Health Innovation now webpage.
This exciting live online event will celebrate Mine's history and future in health research. Opening remarks from Colorado School of Mines, Children's Hospital Colorado, and Catalyst Health Technology Integrator research leadership. The research symposium live break-out sessions will include health and bio research presentations, particularly our long-standing research collaboration with Children's Hospital Colorado. This event is open to the public. Please join us online Wednesday, September 2, 20 20. Opening speakers will be: Dr. Paul Johnson, President, Colorado School of Mines, Dr. Stefanie Tompkins, VP Research & Technology, Colorado School of Mines, Dr. Frederick Suchy, MD, Assistant Dean of Research, Children's Hospital Colorado, and Mike Biselli, Partner/Owner Catalyst HTI.
For further information, please contact the Mines@Catalyst at catalyst@mines.edu
April 20, 2020   Ref: Urgent Laboratory Space Leasing Request – Greater Denver Metro Area
SARKAR-KLEIN Labs is seeking off-site laboratory space. Proposals submitted in response to this RFP shall include the minimum requirements identified in the RFP- even if those capabilities do not currently exist in that space. Proposals submitted shall include a price per square foot that reflects the total price after any design/modification/construction that may be required to meet the criteria stated in the proposal has been completed. Desired lease start date of June 1, 2020, with duration of 1 year.
Mines@Catalyst Celbration and Research Sypmposium 
 Online  |  Wednesday, September 2, 2020  | 4:00 —6:00 pm

We will showcase Mines research in health, and in particular our long-standing research relationship with the Children's Hospital Colorado.
Hear from Mines thought leaders who made it happen
Walk through the bio & health research showcase
Meet researchers in health & bio at Mines and introduce collaborative research opportunities between Mines & Children's Hospital Colorado
The goal of Mines@Catalyst is to expand our activities in health research and education, foster new partnerships and network with stakeholders in the health domain. Specific activities include the collaboration with Children's Hospital, health industry, and most recently the Mines initiative for AI in bio and health.
If you would like to receive more info about the event and/or present a poster, please contact jennycrawford@mines.edu
Our new suite is #245 located in Catalyst, HTI at 3513 Brighton Blvd.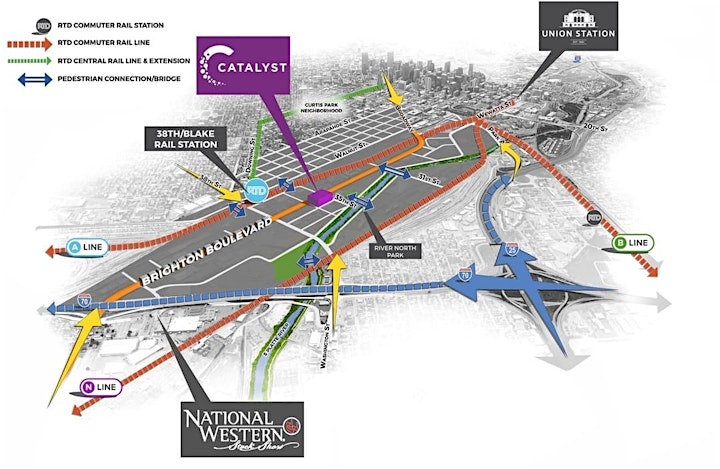 ---
PAST EVENTS
What is Mines @ Catalyst?
Wednesday, April 29 | 11:00 AM – NOON | Online 
Join us for an information session on who we are, what we do, and how you can help Mines COVID-19 research.  
Join colorado school of Mines @ catalyst micro pitch event
Feb 19, 2020 5:30pm to 7:30pm
Are you interested in learning about what the companies at Catalyst are up to? If so, come to the Catalyst Micro Pitch Event!
Each Catalyst member company has been given 30 seconds and one slide to portray who they are and what they do. Only 30 SECONDS! Come and check out their creativity.  Please bring your friends, family or anyone who is interested in the awesome work happening at Catalyst.  Food and drinks will be served!
Agenda:
5:30 – 6 PM | Networking
6 – 6:30 PM | First set of Pitches
6:30 – 6:45 PM | Networking Break
6:45 – TBD | Last set of Pitches
8 PM | Doors close
Parking:  Street parking is available near 35th and Delgany. Paid parking garage is located at 3508 Delgany St (in the same building as the Catalyst Event Center).
CCI colorado health innovation community
CHIC Workshops held at MINES @ Catalyst Suite 245
Wednesday, February 12, 2020
Colorado school of mines continuing & professional education services (CPES)
Thursday, February 13, 2020
Presenter Zane R. Jobe, Research Associate Professor, Geology & Geological Engineering Director at the Colorado School of Mines, and Chevron Center of Research Excellence.
CIPHER SKIN
Biosleeve launch at MINES@Catalyst Suite 245
Thursday, December 12, 2019
6:30 PM to 8:00 PM
There are hundreds of pipeline breaches every year, costing billions of dollars in maintenance and damages. What if you could detect them in real time and prevent them from happening?
Cipher Skin's patented sensor technology makes it possible to remotely monitor real-time pipeline integrity.
All-Energy-Tech Holiday Social
We're trying to end a great year for oil & gas (said nobody) with a bang.
Invite your friends, co-workers, and peers to join us for a mass gathering of energy tech's finest for free food and beverage, great networking, and some timely insights.
A Digital Transformation Success – The DCP Midstream Story
Bill Johnson, the Chief Transformation Officer of DCP Midstream, will be the presenter.
Bill will share the story of the successful digital transformation of DCP.
The result: over $20MM in savings, with a more empowered organization.
When:      Tuesday, December 3, 5 – 7 PM
Where:     Oskar Blues Brew & Grill, 1624 Market (16th / Market), downstairs
Registration is at:
A Digital Transformation Success – The DCP Midstream Story
Wednesday, October 30th at 6:00pm
Career Sustainability: Coping with rapid technology change
Join us on October 30 for an exclusive joint networking opportunity with Lehigh University. Explore our new space at Catalyst HTI (https://lnkd.in/edp_ryq) in RiNo! Our evening will include a conversation on career sustainability with industry leaders from across the Denver area. With jobs constantly evolving to reflect changes in technology and business models, it's more important than ever to be prepared for new opportunities and to consider alternative career paths. Our panel will share their own experiences with career pivots and positioning yourself to explore new options. The program will also include our interactive networking corner and networking reception.
Get more information here:  https://weare.mines.edu/s/840/19/interior.aspx?sid=840&gid=1&pgid=6081&cid=10169&ecid=10169&crid=0&calpgid=13&calcid=745
Collaborative Surgical Robots: Optical Tracking & Endovas
November 11, 2020 | 5:00 PM
Professor Andrew Petruska, "Collaborative Surgical Robots: Optical Tracking during Endovascular Operations"
TALKING ROBOTICS Number 2 – Join faculty and students from Mines' new Robotics Program as Professor Andrew Petruska talks about surgical robots.
TALKING ROBOTICS – Mines new Robotics Program is holding the second of three discussions about current topics in robotics, based on articles in the September 2020 Robotics & Automation Magazine, a special issue titled "On the Horizon for Robotics and Automation 2021."
You can see the Table of Contents here: https://ieeexplore.ieee.org/xpl/mostRecentIssue.jsp?punumber=100 (if on the Mines network you should be able to download the papers). Please SAVE THESE DATES and forward to others who might be interested:
TALKING ROBOTICS NUMBER 2- Wednesday, November 11, at 5P via Zoom – Professor Andrew Petruska, "Collaborative Surgical Robots: Optical Tracking during Endovascular Operations"
https://mines.zoom.us/j/97203169736
We'll look forward to seeing you there!
New Spring Course!
PHGN466/566 Modern Optical Engineering
THIS COURSE CAN BE USED FOR ENGINEERING SCIENCE CREDIT
Provides students with a comprehensive working knowledge of optical system design that is sufficient to address optical problems in their respective disciplines. Topics include paraxial optics, imaging, aberration analysis, use of commercial ray tracing and optimization, diffraction, linear systems and optical transfer functions, detectors and optical systems examples.
We are fortunate in that for Spring 2021 all students will have their own PERSONAL license to ZEMAX Optic Studio: Software for Optical System Design (www.zemax.com), for the course. You can put it on your laptop! The class will be taught in person, in a studio format – e.g., we will solve problems and design optical systems in realtime, in class. Students taking the course come from a broad array of disciplines: physics, mechanical engineering, electrical engineering, QBE, etc.
Other topics include: Design of femtosecond, multiphoton imaging systems for applications from advanced manufacturing to the neurosciences! You will design and evaluate the performance of your own optical system pertinent to your career path! Graduates of this course work in a broad array of disciplines: quantum computing, designing cameras for Apple Computer, the neurosciences, etc. For more information contact Professor Jeff Squier ( jsquier@mines.edu)
Pre-Med Society Meeting
Club meetings every Thursday at 7 pm on Zoom!
Please join us to listen to speakers who are currently or were formerly medical student, scholarship advisors, as well as admission faculty! 
/////  For more information, join our Engage or email Hadley Thomas at hthomas1@mymail.mines.edu
MINES CREATE48: MINES INVENTATHON PUT ON BY MINES DEMOCRATIZE CREATIVITY CLUB.  
What is Create48?
Create48 is a weekend-long inventathon that allows Mines students to group up and create a unique invention prototype to solve real-world problems! Through rapid-prototyping and a "fail fast" mentality, student teams will brainstorm, sketch, design, and build a brand new "pretotype", that will then be presented to judges. Inventions are judged off of design, purpose & value, as well as practicality and function. Backed by Mines faculty and the E&I department, the goal of this event is to provide more creative learning experiences for Mines students, and promote the implementation of entrepreneurship around campus.
What do we need from you?
We are asking for 4 hours of your time, Sunday morning, September 6th (Labor Day Weekend). Mentors will provide feedback to teams, during 30 minute sessions via Zoom (or in person if willing). This will help students refine their ideas before they present to the panel of judges. I'm reaching out to you, because I think that you'd be a great fit. This group has a wide variety of skills and backgrounds that would greatly benefit the students involved.
We'd love to have your expertise and creative minds at this event! We are working quickly to pivot plans to follow coronavirus regulations, so we will provide a full itinerary very soon.
I've provided a Google Form below, please fill it out with your response. This might be the first time some of you are hearing about Democratize Creativity and Create48, so please shoot me any questions you have about these topics. I would greatly appreciate your input!
Please Fill out this form with your Response:  https://forms.gle/1wQQu2VF6dVWZh4RA
EMx  FLASH CHALLANGE 
Part One:  Define the Problem.
April 18 | 10 AM – 12 PM | Online
Free Lunch e-Coupon
Cash Prizes
Open to any Colorado Higher Education student.
Join the movement at MinesX to register for our EMx Challenges.  After you become a member MinesX will send you detailed information and updates on EMx Challenges.  
For more information please email Jenny Crawford at jennycrawford@mines.edu
---
PAST EVENTS
MARQUEZ 235 | WEDNESDAY, FEBRUARY 5 | 4 PM – 5 PM
Please join us for an engaging roundtable of entrepreneurial Mines. This roundtable series will give participants a platform to explore the multiple ways to innovate through entrepreneurial thinking. We will explore the contemporary challenges of innovating a business model to capture value effectively and responsibly. Our aim is to crowdsource the best out-of-the-building thinking while grounding the discussions in rigorous methods and promising research.
GUEST COMPANY CIPHER SKIN
In the quest for stronger health and motion analytics, the first step is data collection. Cipher Skin has developed a patented sensor technology that revolutionizes the way data on human movement is collected, reported, analyzed and monitored. With greater quantity and quality of data collected, Cipher Skin is leading the way towards a new field of predictive health and performance optimization.
January 7
Innovate Defense | H4D 
All disciplines are welcome (graduates and exceptional undergraduates). Enrollment is limited. 
SOLVE REAL PROBLEMS. MAKE A HUGE DIFFERENCE.
Apply Your Knowledge, Skills and Creativity to Challenging Problems. Discover Your Untapped Potential. Learn how to design and test solutions to important national security problems with speed, urgency and creativity. You'll learn how to develop technology solutions to solve important national security problems, use beneficiary discovery and business model development, while applying entrepreneurial principles & problem validation to actual national security problems
Problems for Spring 2020:
Tracking Security Clearances – CO National Guard

Cultivating Talent – CO National Guard

Let's Warm Up! – Mountain Home Air Force Base

SCIF in a Box – US Air Force

Approving Tactics for Rapidly Delivered Space Systems – US Air Force Space Command (AFSPC)

Identification of Inspection Topics – US Air Force Inspection Agency

Getting Home Safe Shouldn't Be Difficult – FE Warren Air Force Base

Modern Government Innovation Practices – US Air Force Tactical Exploitation of National Capabilities (TENCAP)

RS Denver Poolee Development – US Marine Corps
Thursday, December 5 at 8:30am
The 2019 Henderson Challenge Final Shark Pitches
CTLM 102
Continental breakfast starts at 8:30 am
The Shark pitches start at 9:15 am
The winners are announced at 12:00 noon.
The 2019 Henderson Challenge is brought to you by Mines, Freeport McMoRan, Climax Molybdenum and the Henderson Mine. Teams of Mines students and faculty and alumni mentors have been working on the CHARGE: Develop a concept for the Sustainable repurposing of the Henderson Mine's mill facilities and land holdings that is economically sustainable, socially acceptable and provides a positive and lasting legacy to the community.
We have five great teams in the final competition, and they have been working on creative, interdisciplinary ideas with positive impacts for Clear Creek, Summit and Grand Counties. What innovative and sustainable concepts will the student teams develop?
The final project presentations will result in three prize winners – first place team receives $25,000, and the second and third places receive $15,000 and $10,000 respectively.

STARUP SHOWCASE: 
Precision Medicine
Tuesday, December 15th 2020 | 11:00 AM – 12:30 PM MST
Since the Obama Administration launched the Precision Medicine Initiative in 2015, there have been bold efforts to innovate around the notion that there is no one-size-fits-all approach to treating patients. Precision medicine, or personalized medicine, combines genetic profiling, big data analytics and population health information to enable physicians to select targeted treatments that have higher rates of success and lower likelihood of adverse effects.
At our next MATTER Startup Showcase, MATTER startups AIQ Solutions, Ariel Precision Medicine and Geneticure will share how their solutions are leveraging genetic information and other datasets to improve clinical decision making and mitigate complex disease progression in oncology, hypertension and pancreatitis. Following each presentation, the startups will receive feedback from a panel of decision makers from three of MATTER's partners.

Investival Showcase Virtual: Connecting Life Science Corporates with Capital & Partners.
11-16 November 2020
Showcasing investable innovation across biotech, medtech, healthtech and consumer health – 5th Annual Investment Showcase


Proactive Strategies for Self-insured Employer Groups into 2021 and Beyond
Wed, November 18, 2020 | 11:30 AM – 1:00 PM MST
Join MATTER and Livongo for the first event in our latest series, Insights on Innovation for Self-insured Employers.
COVID-19 has underscored the importance of self-insured employer group health plans, or a plan in which the employer assumes the financial risk for providing healthcare benefits to its employees. Many self-insured employers have taken proactive steps in helping their employees during the pandemic, such as expanding benefits and voluntarily waiving cost-sharing for telehealth services and in-network provider care.
At the first event in MATTER's newest program series, Insights on Innovation for Self-insured Employers, join MATTER CEO Steven Collens for a discussion with leaders from Aon Hewitt, a consulting firm that arms self-insured employers with cost and quality control to better negotiate prices with providers, Boeing, one of the largest self-insured employers in the world and Livongo, a consumer digital health company that provides cost savings to employees with chronic conditions that work for self-insured employers. The panel will discuss each organization's current proactive and reactive strategies amidst COVID-19, share a look ahead into the innovative solutions they are planning to adopt, accelerate and deploy in 2021 and examine the implications of these steps.
Panelists:  Glen Tullman, founder and former executive chairman of Livongo. Jim Winkler, senior vice president and global chief innovation officer of health solutions at Aon Hewitt. Jason Parrott, senior manager of global healthcare and well being strategy at Boeing
Agenda:  12:30pm-1:30pm | Program. 1:30pm-2:00pm | Networking and discussion. After the program, join us for networking and discussion via Zoom breakout rooms. If you wish to join, make sure to opt in when you register.
The Pitt Challenge
October 23rd-25th virtually
A virtual hackathon sponsored by the University of Pittsburgh School of Pharmacy and the Clinical and Translational Science Institute (CTSI)
Participation this year is limited, with preference to those who confirm their attendance.
SPARK | REACH Colorado Program
Deadline for Applications: October 21, 2020
Spark|Reach is accepting applications on behalf of NIH RADx-rad program for the development of novel biosensing technologies that leverage the accessibility of human skin and the oral cavity for the detection of biological, chemical, and other biometric signatures of COVID-19. We are encouraging Mines faculty with the requisite sensing technology to apply for RADx-rad / REACH funding ($250,000 for 1 year). The Colorado AMC REACH Hub has been selected to support the RADx-rad program, specifically biosensing technologies targeting volatile organic compounds emanating from skin or oral cavities as further described in the attached Word document.
Applicants from your institutions can access the online application here:

The

 

COVID-19 Symptom Data Challenge
The Challenge
Can you develop a novel analytic approach that uses the CMU/UMD COVID-19 Symptom Survey data to enable earlier detection and improved situational awareness of the outbreak by public health authorities and the general public?
Phase I submissions are due by September 29th, 2020 11:59 PM ET.
INTERNATIONAL ART CONTEST: TANDEM HUMANS-CORAL
$1,800 in prizes
When: Due Oct. 31, 2020
Why: Art is a powerful tool for the advocacy and dissemination of research findings. This exhibit seeks to bring awareness to the fight against global warming in tandem to the connection of humans and corals.
How: Contact Judith Klein at judithklein@mines.edu or visit
JOIN NEXT WEEK FOR THE LIVE DISCUSSION ON INVENTING A REMOTE CULTURE TO DEAL WITH PENDEMIC
Date and Time:
Thursday, May 7, 2020, 12-2 p.m. ET
Moderator: Michael Becker, Independent Creative Director of Multiple Government Serious Software Programs
Participation: Sign in to polyplexus.com and go to the Discussion Tab of the Citizen Incubator: Inventing a Remote Culture to Deal with Pandemics 
---
PAST EVENTS
5TH ANNUAL LIFE SCIENCE INDUSTRY SHOWCASE

Wednesday, Feb 19, 2020
3:00—6:00pm
<!–
2020 Rice Business Plan Competition
Application are now open.  The deadline for submissions is 11:59 PM CST Monday, January 27, 2020.  
Apply to compete in the 2020 Rice Business Plan Competition! This is the world's richest and largest graduate-level student startup competition, hosted at Rice University in Houston, Texas on March 26-28, 2020, comprised of 42 select early-stage companies pitching their business ventures and vying for $1.5 million in prizes.
The competition, celebrating our 20th anniversary, is designed to give collegiate entrepreneurs a real-world experience to present their startups to investors, receive mentoring, network within the entrepreneurial ecosystem, enhance their business strategy, and learn what it takes to launch a successful company.
We provide an intense, immersive experience over the three-day event for student startup founders to pitch to investors, receive multiple rounds of feedback and advance their startup. There is also significant time designated for interaction with our judges and prize sponsors, the majority of whom are from the investment community.
Alumni from the RBPC have raised more than $2.3 billion in funding and have generated more than 28 successful exits, valued at nearly a billion dollars. We track, follow and promote all startups that compete in the RBPC, and some of our stats and success stories here.
The RBPC is unique in its statue, size, format and participants—due in no small part to the quality of our competitors. Startups at the 2019 RBPC competition said:
"Quick access to investor feedback, advice on pitching and storytelling, network of talented individuals from top universities in the US.
Logistics were flawless. One of the best conferences I have ever attended!
RBPC provided us access to individuals that you would have to wait for months otherwise to get just an appointment.
The access to mentors, judges, and extensive feedback made this competition invaluable to the development of our business.
What an experience! It was challenging, inspirational, and beyond believe rewarding. Our team recommends it to any and everybody for entrepreneurial, business, and investor connections!"
I believe you have a diverse student population working on technologies and concepts that could become (or already are) viable business ventures. Encourage them to realize their potential with this competition!
I appreciate you sharing this information with your faculty, staff, students and those interested in entrepreneurship, and encouraging teams to apply.
Complete information, including application, eligibility requirements, competition format and general guidelines, is here: https://rbpc.rice.edu/. Please contact me at csantamaria@rice.edu or rbpc@rice.edu with any questions; your student startups are also welcome to contact me.
Mines Entrepreneurship & Innovation Social Meetups
Wednesday's
5:00 PM to 7:00 PM
Buffalo Rose – 1119 Washington Ave. Golden, CO
Mines Entrepreneurship & Innovation Social is a bi-weekly gathering of faculty, staff, alumni, mentors and friends who want to engage in and contribute to growing the innovation eco-system and solving problems that matter to many.
Come meet entrepreneurs launching new startups or intrapreneurs innovating products and services in established organizations. Team up with a Mines faculty member to commercialize impactful research or mentor an energized student team.
Colorado NextCycle
Applications Due November 20, 2019
WHY DO WE NEED NEXTCYCLE?
As a fast-growing state with aggressive recycling goals, Colorado is actively investing in infrastructure to collect and sort recyclables. But recycling requires more than just getting materials into a bin or bale.
Colorado contains no shipping ports which means most recovered materials must be trucked large distances to end markets – not the most economical or sustainable option. And with increasing populations that expect access to curbside recycling, Colorado's goal is to nurture local end markets.
That is where Colorado NextCycle comes in. The program is aimed at supporting the development of business ideas that create or improve recovered commodity and organic material end markets within Colorado – creating a local circular economy. 
In fact, the Colorado Department of Public Health and Environment has committed $3 million in end market funding in the past year alone – with additional rounds of funding planned.  
You get the idea. Colorado is serious about developing local end markets. The Colorado NextCycle program mentors teams toward shovel-ready end market business ideas – ripe for private investment or CDPHE grant funding. Colorado NextCycle goes beyond recycling to supporting new design, renewing recycled materials, and reviving local economies.
The application period for the second season of Colorado NextCycle is now open. Letters of Intent are due by 4:00pm MST on November 20th. Be sure to download the jump kit that contains information about the program, instructions on how to apply, a list of important dates, and links to resources to begin developing your business ideas. Download the PDF jump kit on the Colorado NextCycle webpage at:  https://www.colorado.gov/cdphe/nextcycle.